Qmobile S8 Review. First thing, Qmobile S8 is not something like Samsung Galaxy S8. However, after the success of Galaxy S8, we have seen a lot of 8ís in the smartphone market. So today we are going to have a review of Qmobile S8 which you can buy for 10,999 PKR in Pakistan.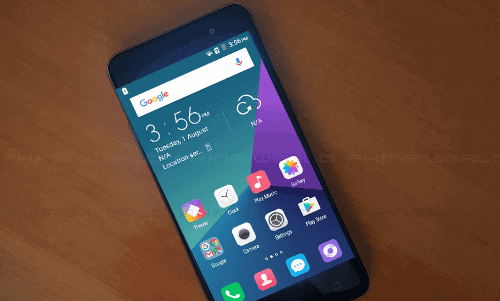 Qmobile S8 Review |Should you buy Qmobile S8 or not?
So let us first have some general look over the phone. Qmobile S8 comes with 8 Megapixels camera at the back and 5 Megapixels at the front. Along with that, it has 5-inch of the 720p display screen and it also supports 4g LTE as well. It comes with Android 7.0, 2GB of Ram and 16GB of Rom, and 1.3GHz Quad-core processor.
Inside the box, you get micro-USB cable, normal headphones from Qmobile, and a charger (1 Amp). Not something really amazing besides the 720p display. Oh yeah, I forgot the 2400mAh battery, still not impressive.
Qmobile S8 Design
Well the design of the Qmobile S8 is not bad just like the S6. It comes with metal body with the fingerprint sensor at the back. The overall design gives you a slim look and makes the phone easy to use single handed. The bottom of the phone has speakers along with the charging jack.
With 2.5-inch curved glass at the front, it is the best phone from Qmobile in the market. However, the bezels on the top and bottom are a little bit disappointing. Qmobile should have trimmed those bezels as to make the phone look cooler. Besides that the curved glass and well-saturated colors provide you a premium feel while using S8.
Camera Quality of Qmobile S8
The Qmobile S8 has 8 Megapixels main camera and 5MP front shooter. Now here is the downside of the phone. It would have been so good if Qmobile had given focus more to those cameras then the build quality. Seriously it will be better if we donít talk about the quality at the moment as it is worse. Even in the good lighting conditions, both of these cameras struggle to give you a decent shot.
Software and Interface
If we talk about the interface and software of Qmobile S8 then both are well optimized. There are some pre-installed applications like Skype and Uber that you can uninstall if you want. And with Android 7.0 Nougat, things are pretty easy to use and navigate.
Performance
In the performance section, Qmobile S8 is powered by MediaTek MT6580 quad-core processor clocked at 1.3GHz along with 2GB of Ram. So as long as you go along with application like Whatsapp, Facebook, Skype and others then S8 is good at this. Even playing games like GTA San Andreas doesnít make you go with the lags.
Fingerprint sensor at the back is pretty impressive and responsive. It is not as fast as Premium phones from Samsung and Apple but it is good. Talking about the speakers and they produce really bad sound.
Battery Performance of Qmobile S8
Again the 2400mAh battery in the phone is the down factor. It is really hard to get one day out of this size battery. Also, there is no support for fast charging due to 1 Ampere charger that comes with the phone. So you might need to charge the phone maybe 2 times in a day. Thatís something poor.
Connectivity
Qmobile S8 comes with hybrid SIM slot which means you can either install two SIMS or one SIM and one SD card. Besides that, you get Bluetooth, WiFi and 4G LTE connectivity which can get in any other phone in the market as well.
Should you buy Qmobile S8 or not?
Qmobile S8 might be the best phone in terms of build quality and performance for 11,000 PKR. But on the other side, it has bad cameras, terrible sound quality, and hybrid SIM slot. So my verdict is that if you have nothing to concern with camera and sound then you should go for the phone.